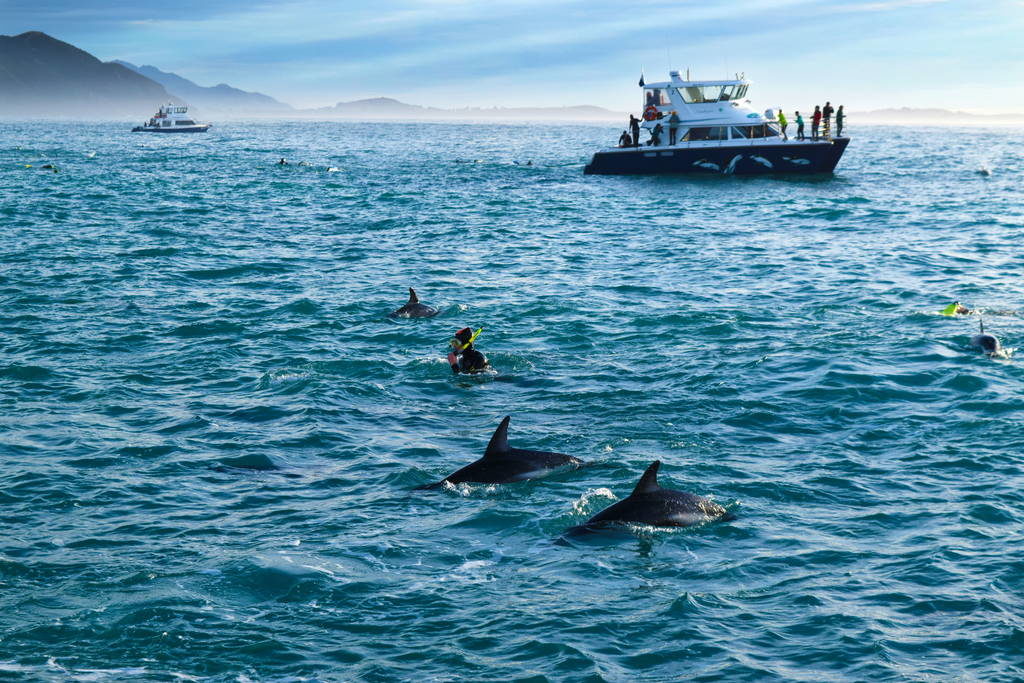 ---
Title
Dolphin Encounter Kaikoura
Dolphins are some of nature's most extraordinary and captivating creatures. And they're even more amazing close-up. Immerse yourself in their world with Dolphin Encounter Kaikoura, an unforgettable experience in one of New Zealand's most breath-taking destinations.
Email from Dolphin Encounters to Freedom Mobility client:
Many thanks for your email and interest in the Dolphin Encounter tours. We operate tours daily to swim with and view the dolphins at either 5:30am, 8:30am or 12:30pm. All tours have an approximate duration of 3 – 3.5 hours and are weather dependent. Please note that advance bookings (particularly over the summer months) are essential.
Unfortunately we do not have wheelchair access on any of our vessels. We do take people with disabilities swimming with the dolphins, however, it depends on the extent of their disability and you need to consider the type of environment we operate in. We operate vessels in the open ocean, which is subject to the elements of the sea swell (occasional chop) and wind. At times this can be challenging. As the vessels move about, passengers need to be able to maintain their balance when moving about the vessel.
This activity involves having to move oneself onto and off the boarding platform at the rear or stern of the vessel, the person with the disability needs to be able to manoeuvre to and from this position without assistance. Swimming with the dolphins requires a reasonable degree of physical fitness and requires the ability to swim in the open ocean, preferably with snorkeling experience.
Spectating on the Dolphin Encounter is an easier activity to accommodate than swimming, however, once again you need to realise the limitations of being on a boat in the open ocean. If th person relies on a wheelchair, our vessels are not able to accommodate wheelchairs. However, we can accommodate watchers who are able to sit unaided or able to sit with the help of an assistant.
It is important to remember that all activities are at the discretion of the skipper who is able to advise that due to sea conditions it is not suitable for all passengers to take the tour.