Driving Lessons
Our trained Driving Instructors are patient, calm and are experienced in working with young people who live with disabilities. Their student-centred approach has led to many young people attaining their drivers licenses and gaining confidence and independence. Feel free to talk to us about how we can help in this area!
Are you stuck in a moonboot? A cast? Unable to drive your own car?
We can provide a hand-control or left foot accelerator car to enable you to be completely independent during your recovery. Our qualified Driving Instructors will train you to use these modifications. Then you will be free to get mobile and back to your life! Check out our video resources to learn about Hand Control cars and how they can help you on your road to recovery.
Do you need to learn to drive a modified vehicle?
Our patient and experienced driving instructors can see you on your way. They will devise lessons taking into account your daily trips and lifestyle.
Call us for more information.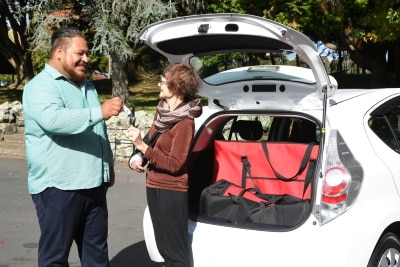 Our Driving Instructors
Get to know our driving instructors before you get behind the wheel. We have instructors located in both the North and South Island. Frank our Senior Driving Instructor based in the North Island, has a wealth of experience with vehicles of any description. Ange is our South Island based Driving Instructor, who always goes above and beyond. And Gary, is our Driving Instructor based in the Bay of Plenty, who has years of experience in the field.