Accessible Lake Tekapo: Blue Lakes, Stunning Views and Starry Skies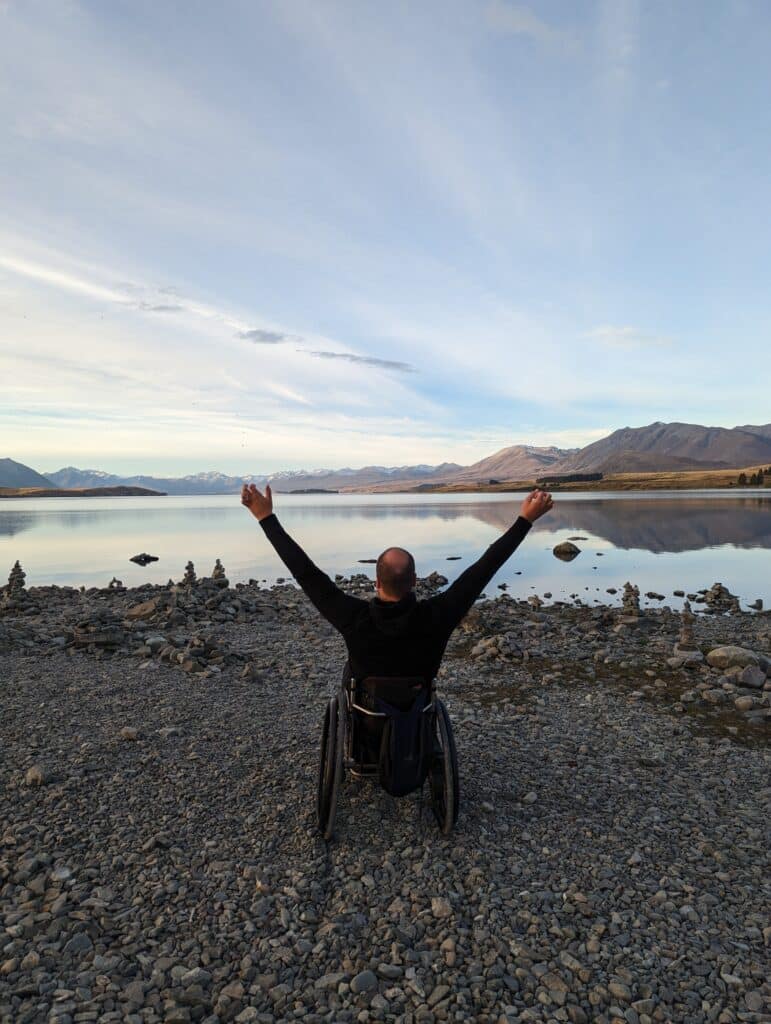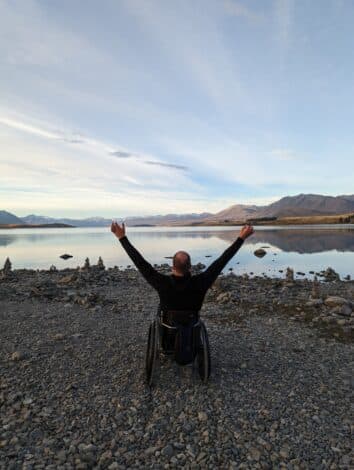 Nestled in the heart of New Zealand's South Island, Lake Tekapo is a small town that offers visitors a breathtakingly beautiful landscape, fascinating cultural attractions, and an incredible stargazing experience. During our recent 2-night stop in Lake Tekapo, my wife Alice and I were treated to some of the most stunning scenery we've ever seen.
When we first arrived in Lake Tekapo, we were immediately struck by the stunning blue hue of the lake. We soon learned that the color is due to the fine glacial flour that's suspended in the water. The lake is fed by the Southern Alps and the surrounding glaciers, and as the ice melts, it grinds rocks into a fine powder that gets carried downstream into the lake. The suspended particles reflect the sunlight in such a way that it creates a beautiful, almost ethereal, blue color. We were lucky enough to arrive on a calm day, so the reflections of the surrounding mountains on the lake were just stunning.
Walking around the lake was a wonderful way to take in the beauty of the area. While parts of the walk were relatively flat, others were steeper and required some assistance from Alice. But the effort was well worth it as the views were simply breathtaking. We also learned that Lake Tekapo is part of a dark sky reserve, making it a prime location for stargazing.
On our first night, unfortunately, the sky was cloudy and we couldn't see much. But we were determined to make the most of our time in this unique location.
The next day, we signed up for an evening stargazing tour with a local guide named Billy the Bard. As we braved the cold and made our way to the stargazing site, Billy regaled us with myths and legends about the night sky, making the experience even more magical.
Just as Billy finished his storytelling, the clouds began to clear, revealing a sky filled with millions of twinkling stars. The Milky Way was visible, stretching across the sky in a breathtaking display. We were awe-struck by the beauty of the night sky, and we couldn't believe our luck that the clouds had cleared just in time for our tour.
Our 2-night stop in Lake Tekapo was an unforgettable experience, filled with stunning landscapes, fascinating cultural attractions, and an incredible stargazing experience. We highly recommend it to anyone looking for a relaxing and memorable vacation.
By Ben Clark, Adapt to Perform
Check out our Accessible Play and Stay Directory for more previous customers recommendations for accessible activities and accommodation in Lake Tekapo.