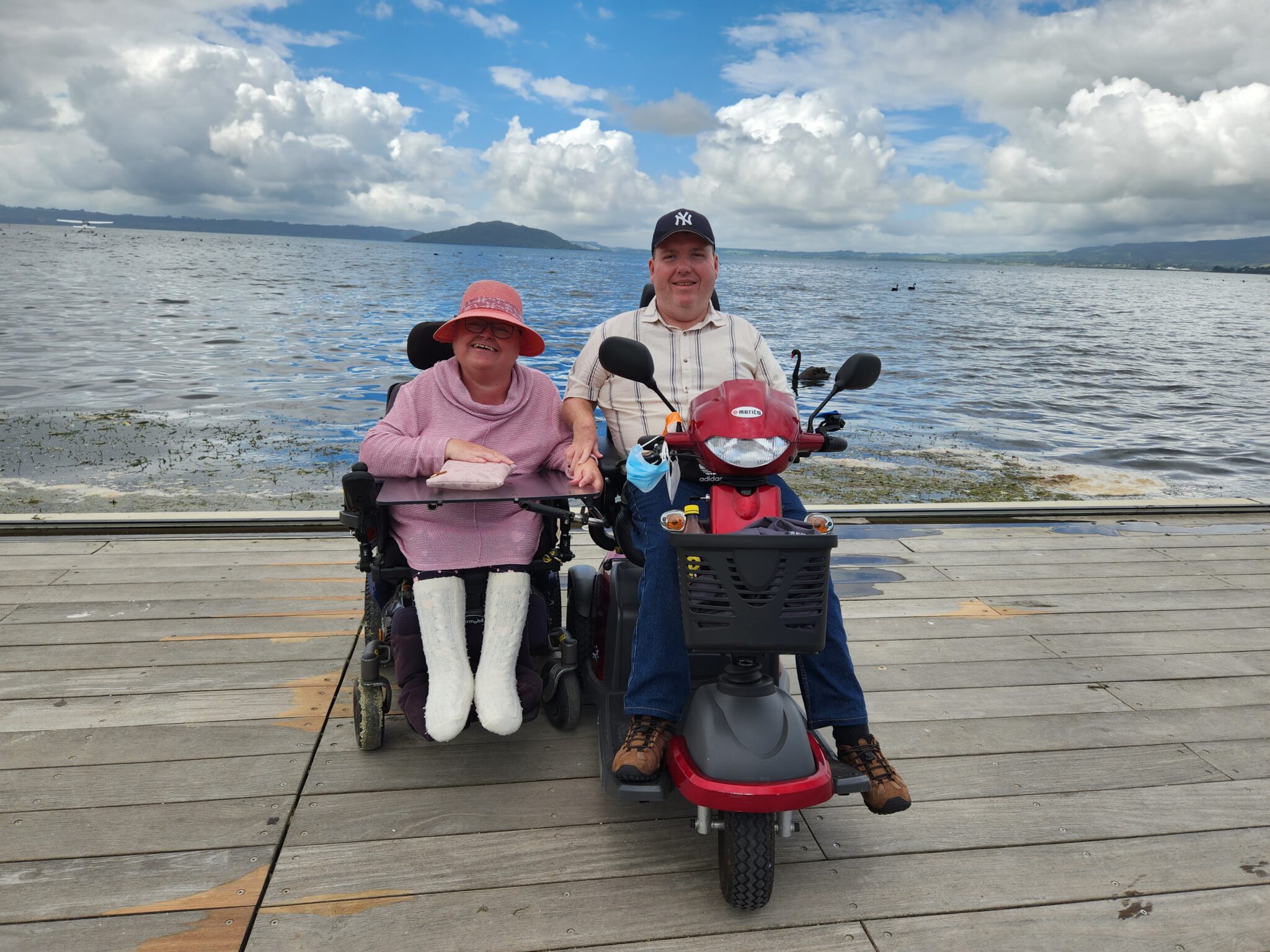 A 3-Week Accessible Road trip around New Zealand
Living in Sydney my whole life I have always wanted to cross the ditch and visit our neighbours in NZ. I think COVID convinced us all that life is short, and we should get out and about when its safe! So I spent 9 months planning our dream road trip around both islands and we are so glad we did!
Day 1 of our 3 week Kiwi Adventure was fun, adventurous and stressful! The eagle lifter is excellent at both Sydney and Auckland. QANTAS managed to lose our hoist battery, and we waited over an hour for a $200 accessible taxi that never arrived! So off in the Sky Bus it was. We arrived to brilliant service and a luxurious room at the QT Hotel. Luckily my 3 amazing amigos carers also do weightlifting in their spare time as it was a sling lift into bed! After a call for help in the NZ Accessible Travel Forum we arranged a lifesaving battery loan from the amazing Kimberly Graham from Grab Your Wheels, Let's Travel! Buying her a coffee didn't seem enough!
Steve and I then set off to explore Auckland. Dodging light showers we drove around Viaduct Harbour, Princess Wharf, then into town where we were impressed by the friendly, calm vibe of this Harbour city. We headed in the direction of the Brewery Co-Op for a great selection of pale ales. Our Skytower experience 60 levels above which was stunning despite the impending weather emergency! The next day we did 14km around Auckland. An accessible ferry trip to Devonport was a real highlight.
Our NZ road trip begun! Freedom Mobility delivered our wheelchair accessible Mercedes Sprinter but despite the luxury feel of the vehicle the front passenger seat was fixed and not enough legroom for Stevo. So, we detoured via the Freedom Mobility depot for some problem solving and ended up swapping vehicles – a Renault we nicknamed Ricci (F1 fans relate). The staff at Freedom Mobility were all so understanding and helpful, and wanted to ensure our specific needs were met. Once we reloaded the van we headed out on the Southern Motorway, and it felt amazing to finally get on the road. The scenery was so green and the waters still high from the recent flooding.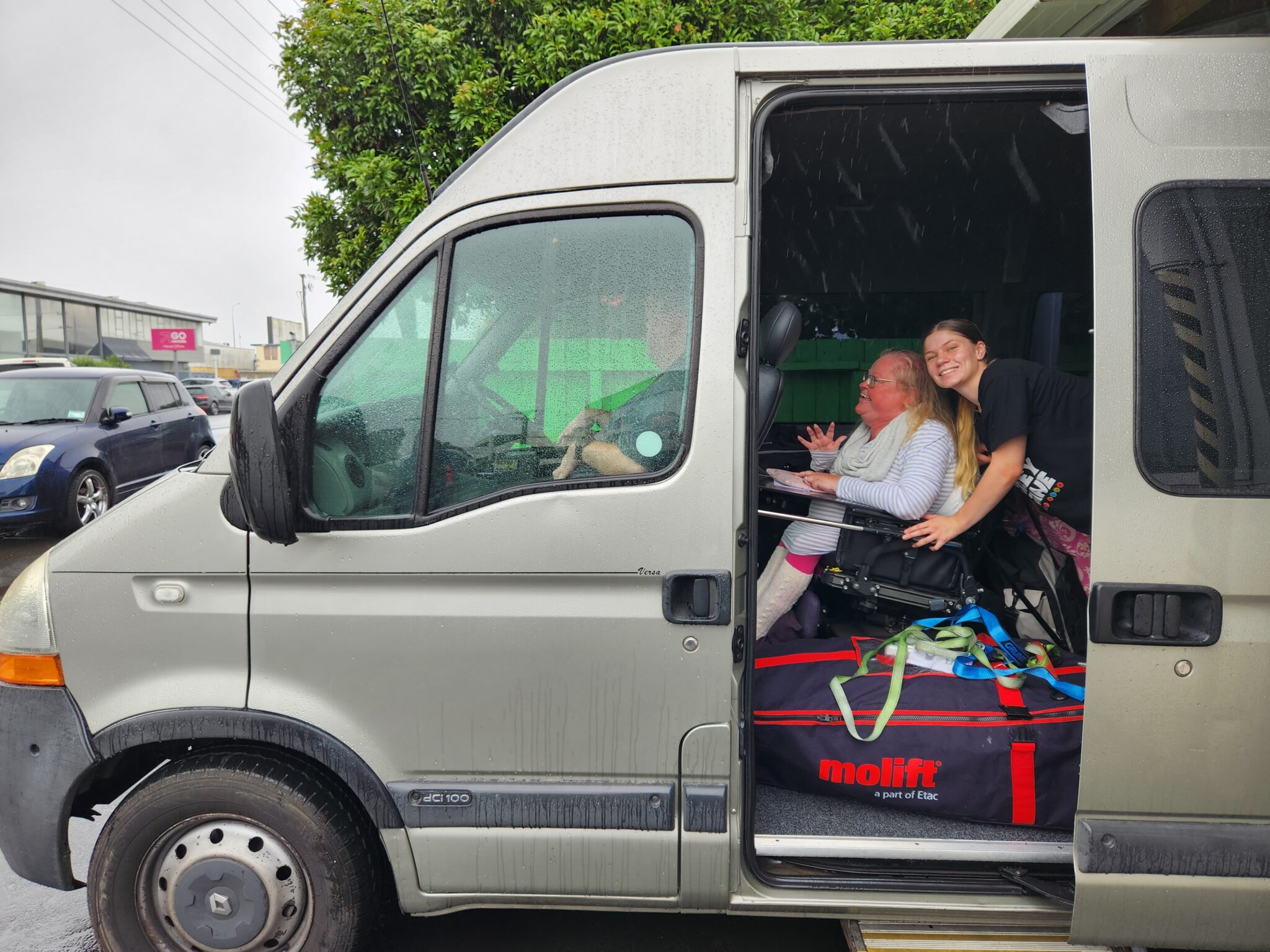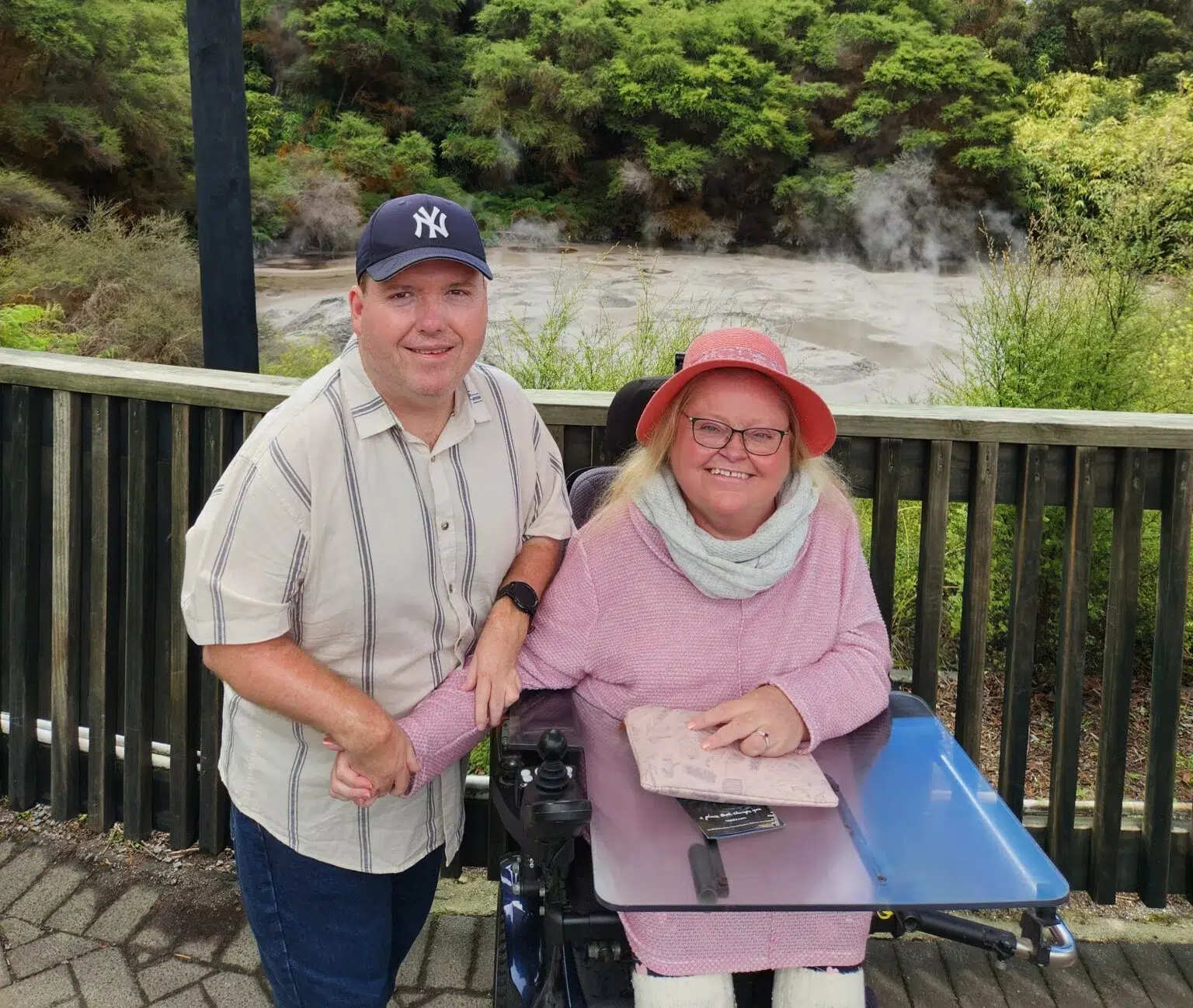 The landscape turned Jurassic-like as we neared the volcanic crater of Rotorua. A great place to explore – so flat and central. We spent a good half day at the Te Puia Geothermal and Māori Centre – and we saw kiwis up close! Before leaving Rotorua, we entered the Redwood Memorial track, a tranquil accessible 2km natural wonderland. You could feel the coolness on the forest floor and breathe in the untainted air. Some tree roots and rocky steep terrain was challenging but a real adrenalin rush!
A spectacular drive south, via Craters of the Moon and nearby Huka Falls were absolutely spectacular, the intensity and velocity of the crystal-clear blue water. After another stunning scenic drive we arrived in the seaside art deco town of Napier where we enjoyed learning about the 1931 earthquake and did some fun vintage tours. The Crown Hotel had good access.
Onward to not so windy Wellington, our final destination on the North Island. Te Papa museum and the accessible cable car with a magnificent view from the Botanic Gardens were highlights of the capital. Zealandia Nature Sanctuary was full of NZ birdlife and worth the visit. That afternoon Steve and I wheeled along Oriental Bay to take some panoramic shots. A fun city with so many bars, pubs and restaurants. A quick drive-up Mt Victoria before we boarded the InterIslander Ferry – make sure it has a lift like ours – the Aratere. The Marlborough Sounds were absolutely magnificent!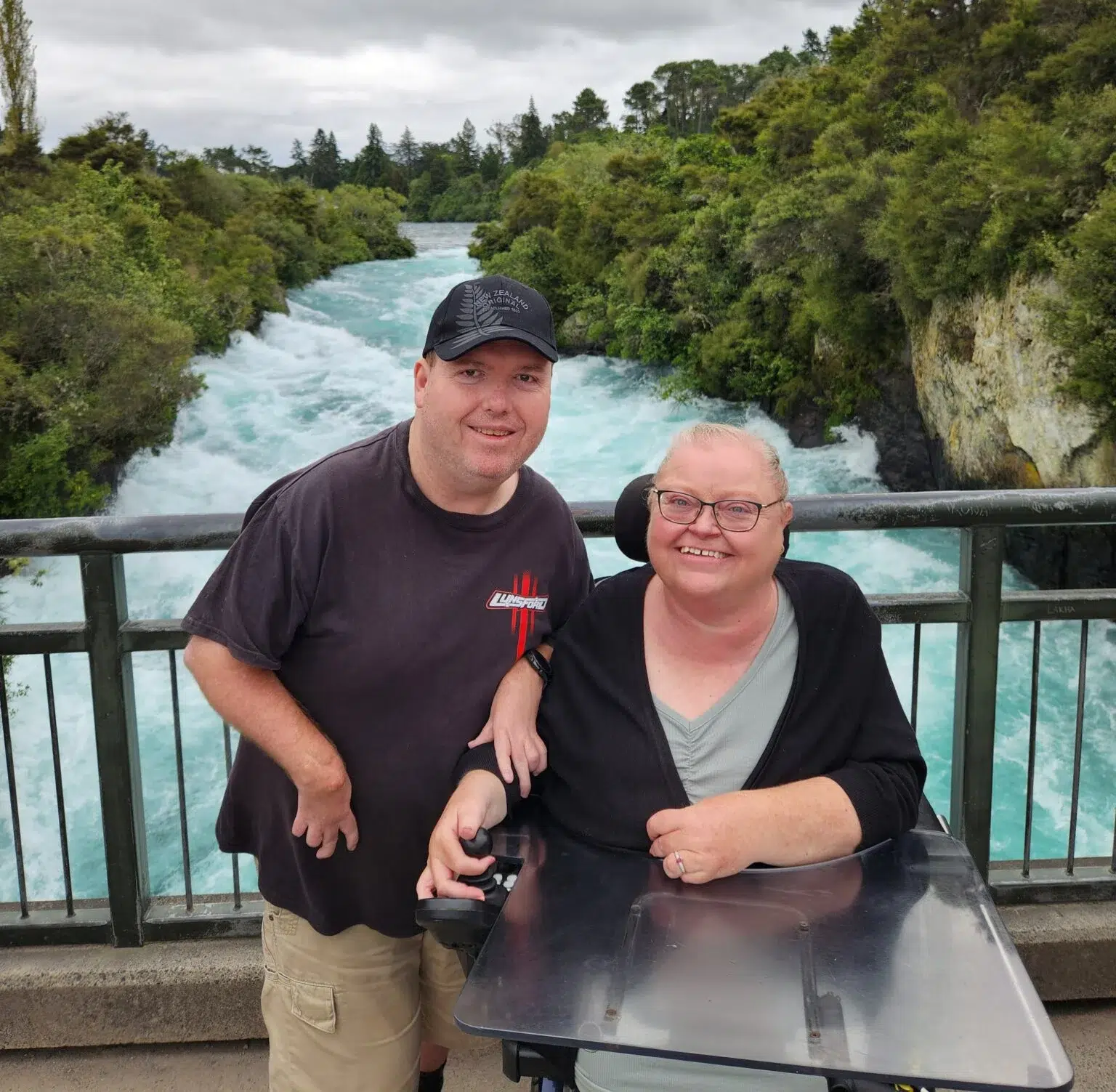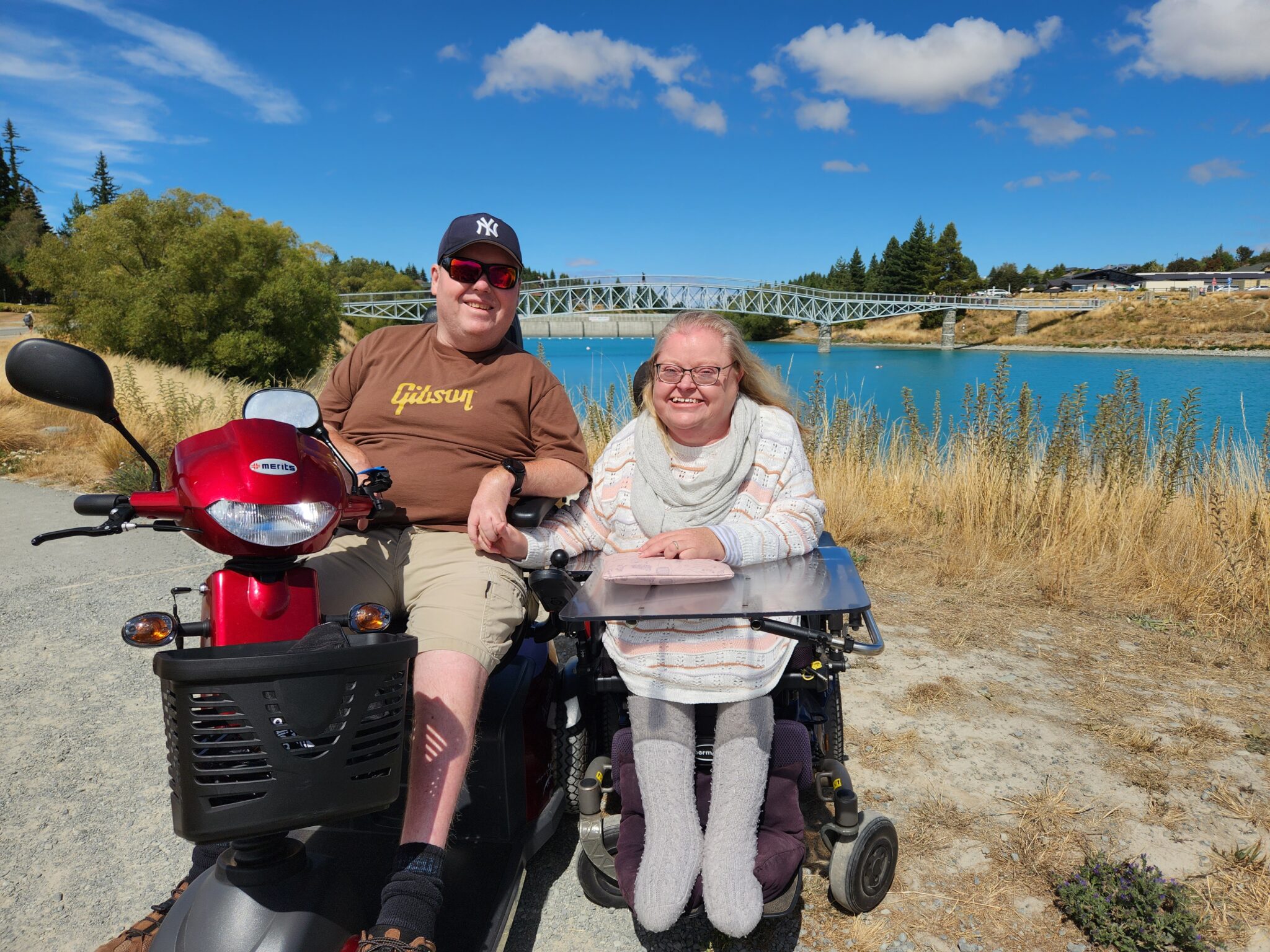 Unfortunately, our wheelchair accessible apartment at Picton Waterfront Apartments had a huge step to enter – access fail! The managers built a dodgy wooden ramp but we were annoyed. The dolphin cruises too weren't accessible, but the souvenir and craft shops certainly were! Scenic trip along Queen Charlotte Drive to Havelock for the local specialty green lip mussels. After a restful few days, we drove a scenic 7 hours south to the majestic Lake Tekapo. All I can say is you must visit to see its beauty! Photoshoots around the Lake, romantic Valentine's dinner and a drive to Lake Pukaki (to try) to see Mt Cook made this stop a true gem of the South Island.
Our final days in NZ were packed with delightful scenery, animal encounters and epic adventures! Warm welcome at Christchurch's super accessible Sudima Hotel.
Romantic dinner for two at the hotel's restaurant, and we'd just finished chatting to our waiter about when he had last felt a tremor, 6 years ago, you'll be fine he said. And then we felt shaking – there had indeed been a 6.1 quake off the coast of Wellington. Thankfully no damage – natural disasters sure were chasing us around NZ!!
The next day we explored the English inspired Christchurch. Loved the pretty wheel along the Avon River and the stunning Botanic Gardens. The Cathedral rebuild was subdued and Riverside markets were a cosmopolitan array of foodie delights. Then we were up early to board the Tranzalpine train from Christchurch to Greymouth return! Absolutely stunning journey through diverse country, the southern alps, the 8km Otira tunnel, rich farmland, Lake Moana, to the West Coast. Access, comfort, food and service couldn't have been better! Bucket list ticked!
Squeezing the most out of our last day in NZ, we visited the International Antarctic Centre to see the cute penguins and the adorable huskies! Our most dramatic adventure happened as we were due to land – a ferocious storm hit and my plane was diverted to Brisbane. QANTAS had already put Steve on a separate flight via Brisbane as apparently, they can't carry 2 mobility devices on a 737 plane?! We arrived home to power outage and our giant oak tree across our driveway! 17 hrs without a pee was hectic! But WOW what an incredible Kiwi adventure.
Planning Tips
Get help with planning eg support coordinator, NZ Accessible Travel Forum, peers
Be clear with care team about roles, roster, contingencies – if your needs aren't met, say so!
Use NDIS funding for disability-related costs (for Australian travellers)
Advice for other travellers with MD
PRE-BOOK must-sees in advance but leave some free time to explore
BOOK accommodation in advance – at least 6 months
CONFIRM accommodation by phone call AND email for pics. Reconfirm
ASK for concessions and carer tickets – often free
MONEY Write up budget. Keep all receipts. Get receipts emailed
DOUBLE PACK if possible, take 2 of essential items eg hoist battery!
Written by Carolyn Campbell-McLean.
Carolyn Campbell-McLean is 49, lives with her partner Steve and SMA, uses a powerchair and BPAP and works as a Senior Community Support Specialist for Muscular Dystrophy NSW. She loves succulents, pink and travel!