Getting In Touch With Nature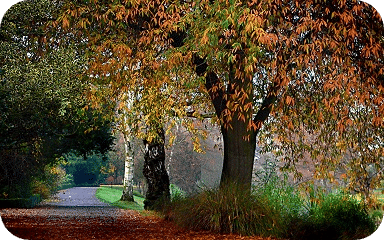 Hagley Park is situated in the centre of Christchurch and is often thought of as the heart of the city. Since 1850, it has been loved by residents and visitors alike who flock to enjoy the open green spaces, botanic gardens and riverside walkways. It also hosts sporting events, concerts, and several festivals year-round. Enjoy the stunning colours as autumn arrives or in spring marvel at the blooming cherry trees. You can easily spend a day here – kids will love the discovery trails, playground, and free open-air swimming pool in summer. Take a picnic or grab a bite to eat at the café or kiosks.

Providing a scenic backdrop to Christchurch city, the Port Hills are a favourite recreation area for citizens and visitors alike. There are a range of walking tracks (a small number being wheelchair accessible), parks, reserves, historical sites and scenic spots. On a fine day, you can take in views of the city, Canterbury Plains and Southern Alps in the distance. In the other direction, spectacular views of Lyttelton Harbour await you. You can also take a drive at sunset and then enjoy the twinkling lights of the city. Summit Road is fairly narrow and winding but there are several flat car parks from which you can enjoy the views. Social media fans will no doubt find the perfect shot for their blog, tweet or Instagram post!
Situated in Rawhiti Domain in the seaside suburb of New Brighton, the Sensory Garden was created to provide those with special needs or disabilities a place to explore nature through all five senses. Smooth, wide paths allow access to the plants (all safe to touch and / or eat!) and activities (including a sound garden). Free entry.
Local Landmarks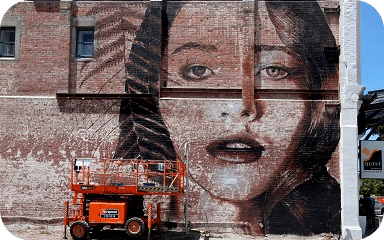 Christchurch is fast becoming known world-wide as a hot spot for street art. Since the earthquakes of 2010 and 2011 left many empty spaces in the city, local artists have filled the gaps and bare walls with murals, graffiti art, art works, posters, sculpture and more. Primarily located within the central city, you'll often come across the street art by chance as you explore but there are recommended walks and trails that you can follow. Most are quite accessible from the street or footpath but if you want to see some up close, it may mean negotiating uneven ground or gravel covered car parks.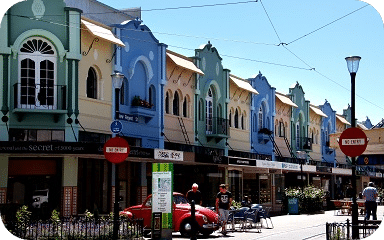 A local landmark, New Regent Street is considered the forerunner of today's shopping malls. Since opening in 1932, it has become renowned for its Spanish Mission style architecture and pastel-coloured buildings. Now a pedestrian street (except for the heritage tram), you'll find an array of eateries as well as boutique shops and retailers. Grab a table outside any of the cafes to enjoy the atmosphere and watch the tram trundle by.
Child (and Adult) Friendly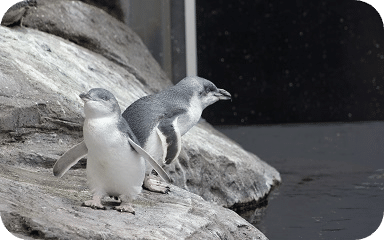 Christchurch is one of only five cities worldwide considered to be gateways to the Antarctic. The city has a long and proud history of supporting the exploration and scientific study of the Antarctic. Consequently, one of the city's most popular attractions is the International Antarctic Centre. Learn about the continent's diversity in landscape and wildlife, experience an Antarctic storm, learn about life at New Zealand's Scott Base, see some Little Blue Penguins and meet some husky dogs. Many of our clients have told us that a visit to the International Antarctic Centre is not to be missed.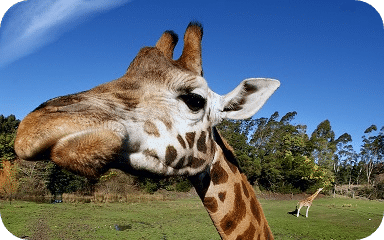 As the only open-range zoo in New Zealand, Orana Wildlife Park offers a unique way to see both native and exotic animals in near-natural habitats. Meet a Kea up close in the aviary, see a Kiwi in the nocturnal house, watch New Zealand's only Gorillas, hand feed a giraffe up close and many more. Check out the daily presentation schedule to plan your visit and make the most of your time.
Opened in 2015, this is the largest playground in the Southern Hemisphere! Children of all ages and abilities will enjoy the many activities available, themed around the geography of Christchurch and Canterbury – there are four distinct play zones (peninsula, forest, plains and wetlands). Activities include climbing equipment, slides, swings, sandpits and a splash / water play area. Have a picnic on the nearby banks of the Avon River or grab food or coffee from the on-site food carts. You'll see why this playground is loved by the children and families of Christchurch.
Local Cuisine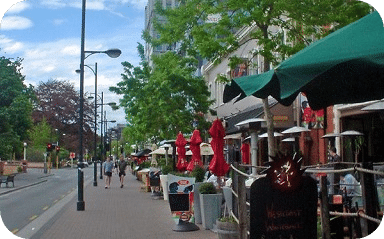 Taking over from where the famous "Strip" left off following the earthquakes, The Terrace development overlooks the Avon River and offers a range of eateries, bars and hospitality outlets. People watch from a ground floor restaurant or check out the view from a brew bar on one of the upper floors.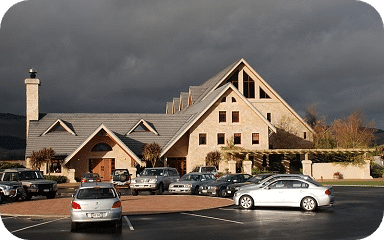 A short 45-minute drive north of Christchurch, the climate and soil of the Waipara valley lends itself to wine-making. With 26 wineries and 80 vineyards, the area is particularly known for its production of premium Chardonnay, Pinot Noir and Riesling varieties but also Pinot Gris and Sauvingnon Blanc. Wineries recommended by friends of Freedom Mobility include Waipara Springs and Mud House for ease of wheelchair access.
Shopping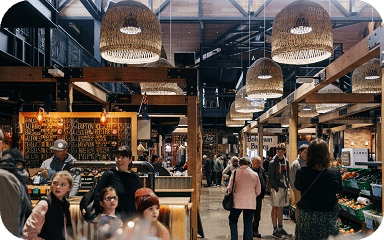 One of the newest and hottest food and shopping destinations, the Riverside Market is always buzzing! With a focus on fresh and local, there are a myriad of dining options at all times of the day. Dimitri's Greek Food is a local institution so make sure you stop by and grab a souvlaki! In addition, explore the laneways for boutique shopping, including gourmet chocolate, New Zealand fashion and homewares.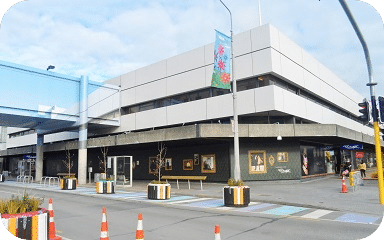 An institution of the Christchurch retail landscape since 1854, this department store draws in shoppers from all around Canterbury. Covering a wide range of departments including cosmetics, fashion, homewares, electronics, toys and furniture. You'll find high-quality merchandise made right here in New Zealand as well as international brand names across all departments. At Christmas time, check out the famous Christmas shop and the Christmas windows from the store's exterior.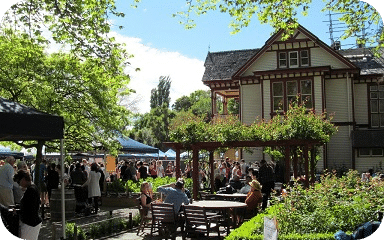 Considered by many to be the best farmers and food market in Canterbury, this popular market operates every Saturday from 9am to 1pm. With the backdrop of the historic Riccarton House and native bush, enjoy a range of fresh food and beverages, including fruit and veges, deli items, butchery, cheese, coffee, patisseries and much more. Mature trees provide shelter and grassy areas allow ample space for picnics. While there, enjoy some time in the protected native bush – paths are flat and accessible for wheelchairs.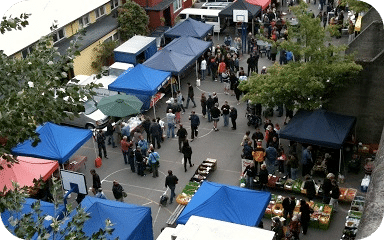 Located in the historic port town of Lyttelton, this farmers market has a focus on fresh and local. Held every Saturday from 10am to 1pm on the main thoroughfare (London Street), enjoy fresh fruit and veges, meat, cheese, breads, herbs and even plants. After sampling the market, stay and check out the eclectic shopping and eating options on London Street or visit some nearby historic sites.
Festivals and events
No matter the time of year, there are a range of festivals and events that take place in Christchurch. Some of the most well-known include:
Bread and Circus world busker's festival (January / February) – performers from NZ and around the world with acts encompassing comedy, acrobatics, street performance, music, cabaret and more. Locations vary but are mainly in the central city.
Christchurch Lantern Festival (March) – celebrating Chinese New Year, this display of illuminated lanterns, performances, fireworks and food is very popular. Takes place in Victoria Square.
Kidsfest (July school holidays) – loved by the children and families of Christchurch since 1992, Kidsfest includes a range of events and activities (both indoors and outdoors) to suit families and children up to 17 years of age.
Cup and Show Week (November) – one of the biggest weeks on the city's calendar, enjoy the fashion and excitement at the racetrack and also visit New Zealand's largest A&P (Agricultural and Pastoral) show for a taste of the country.
South Island Wine and Food Festival (December) – held in Hagley Park, this festival showcases the best of the South Island's wine industry. Sample wines from Canterbury, Marlborough, Otago (and more) and match them with the array of gourmet foods on offer. Also includes seminars on wine (with tastings) as well as cooking demonstrations from some of New Zealand's most well-known chefs.
For additional Christchurch recommendations click here.